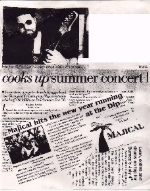 Three different articles written about Majical during 1997 and 1998. The D.A.T.E., a major entertainment magazine of the Record Searchlight Newspaper published a featured article written by Jon Lewis, then an article in The Free Press written by Larry Wright, and an article in the After Five Magazine, another entertainment magazine, written by Craig Harrington.
What Majical exudes is fun. It's in their music, their presence on stage and they share that fun with the audience. The songs are written by Jorge Arguello, leader of the band, arranged by him but with the band's input the music is ultimately shaped, tweaked and honed.
Then before presenting it to the public, to their fans, Majical finally adds the mojo that puts the voodoo, the majica, into those songs.
Majical is a melting pot of many styles and rhythms. World beat? Perhaps, but it is a combination of Musica Latina and hard-edged rock with attitude. It is cumbias and mambos blended with rhythm and blues. It is latin jazz with soft sambas and boleros stirred in with a dash of what they call edgy, Nica music. Yes, Majical plays a few classic rock covers but they just play it their way. Majical is unique and that's what sets them apart from the rest.
What We Have Done
Majical has played for eight years in the Redding area. Each member of the band has a musical history of either blues, funk, latin, country, rock and roll, rock, or combinations thereof, and experience that adds up to a hundred plus years. Apart, they have played in places like Wisconsin, Hawai'i, the San Francisco Bay Area, Southern California and little podunk towns scattered throughout the mountains. Together, they have played the club scene in Redding and its outlying areas. Yes, they have played a multitude of smaller events throughout the north state area of California, but they have played some major festivals too.